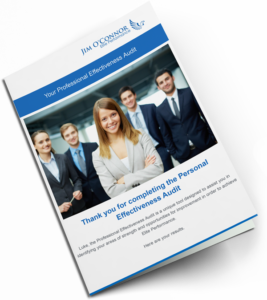 Welcome to the Personal Effectiveness Audit
In this highly competitive world you need to be at your best if you are going to enjoy business and career success.
Complete the Personal Effectiveness Audit and:
Quickly and accurately identify your strengths, weaknesses and areas for development

Receive a complete report highlighting where you need to focus to grow your business & career quickly

Establish a plan for developing your professional effectiveness

Establish a benchmark and compare your progress

Find out how close you are to the being a high performer.  

Find out what's holding you back and what you have to do to enjoy complete success.

Use it to measure and monitor your progress
About the Personal Effectiveness Audit:
The Professional Effectiveness Audit, is a range of questions examing your capability across the three key domains of Personal effectiveness, 1. Organisation, 2. Self Management, 3. Relationship Engagement.
The scores will be calculated and used to produce a detailed report outlining where you need to concentrate your efforts.   Use the results to develop a tailored performance development plan to help you achieve the success you deserve!
Using the Personal Effectiveness Audit is simple:
In the form below, move each slider to reflect how you rate yourself against an average person for each of the questions

You are comparing yourself to an average person.

The rating scale is

Below average <45%

Average 45% - 55%

Good 55%-65%

Very Good 65%-75%

Excellent 75%-100%
At the bottom of each page, click "Next" to proceed to the next set of questions (there are 4 pages in all)

Provide your email address and details on the final page, and we will immediately send you your FREE customised report!
Complete the FREE Professional Effectiveness Audit, and start your journey to the success you deserve today!